Vargas girl turned B movie queen, the statuesque Irish McCalla starred in potboilers like She Demons. She is best know for the "Sheena, Queen of the Jungle" television show.
Nearly 5'10 with an eye popping 39-24-38 inch measurements, Irish McCalla made a strong impression on any male growing up in the fifties. "I couldn't act, but I could swing through the trees".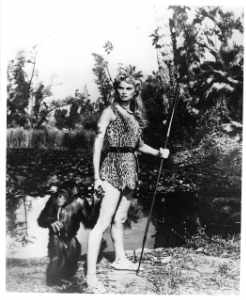 One of the most popular pinup models in the fifties, Irish would make the cover of Eve, Show, Jest and Focus. A shame she didn't do more movies.